What's on in April: Your guide to Camberley's spotlight events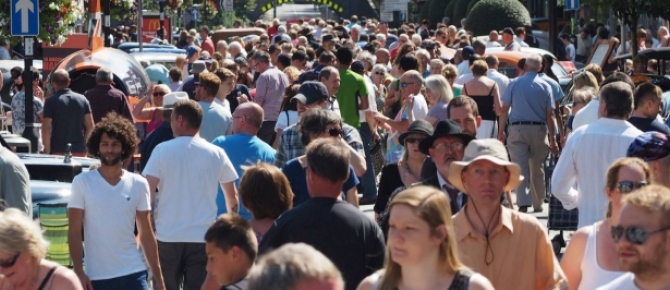 Your guide to Camberley's spotlight events
Fashion Show, 6th April – Camberley is set to welcome their second town-wide fashion show this Saturday 6th April. Taking place at The Square, retailers from both in the centre and within the town will be showcasing their new ranges for the Spring/Summer19 season.
The fashion show is free to attend, and show times are as follows – 11.30am. 12.30pm, 1.30pm, 2.30pm and 4pm. The catwalk is set to be located outside Primark. For more information, visit The Square's FB event.
Find Camberley's Easter Bunnies – Collectively Camberley
Families are being invited to find Camberley's Easter Bunnies across Camberley Town Centre! Just pick up a help sheet from The Square or The Atrium and record sightings of the Bunnies as you walk around the town. All Bunnies have been decorated by local schools.
Free Easter fun, 8th – 19th April Families are set to enjoy bundles of free fun this Easter half-term, with The Square Camberley's events. Taking place at the centre from Monday 8th until Friday 19th April, children can meet some new farm-yard friends, listen to storytelling sessions, enjoy some Judo and meet the popular pre-school bunny television character – Bing! Take a look at The Square's FB event for further information.
Record Store Day – To celebrate Record Store Day, on Saturday 13th April The Rockbox will be holding their very own store party with live music from The Keep Cats, The Vein & Foggy Notion all performing. Doors open at 8am with entertainment from 12.30, take a look at the event.
Rotary Know Your Blood Pressure – Stroke awareness – 13th April
Shoppers to The Square can have their Blood Pressure measured for free on Saturday 13th April, taking place in Cambridge Square. Camberley KYBP event is organised by the Camberley Rotary Club with volunteer Doctors and Nurses in association with the National Stroke Association.
JJ Adams – Artist appearance at Reem Fine Art
The Square will be welcoming artist, JJ Adams at Reem Fine Art on Saturday 13th April. Shoppers will be able to see the new collection first hand and JJ will be available to sign new artwork purchases and meet and greet collectors and admirers old and new. Contact Reem Gallery for further details and to RSVP.
Creative Storytime 13th April – Families will be able to spend quality time together whilst listening to tales from Poppy & Sam's Farmyard with free storytelling sessions and creative activities at The Square. Taking place near the centre's Soft Play Area at 11am, 1pm and 2.30pm.
Meet & Greet with Bing – 17th April Part of Easter event
On Wednesday 17th April, Bing – the popular television character will be making personal appearances at The Square between 11am and 2.30pm. Families are invited down to the centre to pose for pictures and meet the pre-school bunny.
Camberley Farmers' & Artisan Market – 20th April – Collectively Camberley
From 10am until 3pm Park Street in Camberley hosts the monthly market with a huge variety of street food, crafts and traditional local farmers' produce. It's a great place to try before you buy and get to know exactly where your food comes from.
Find out more details here.
Waterstones Book Club – 25th April If you're looking to read more, then why not join Waterstone's Camberley Book club? The next meeting is on the 25th April and everyone's welcome!
Beginners Animation Workshop with Theo Sparks – 27th April This is for people who've never made animation before but want to dip their toe into this exciting medium!
Theo Sparks is an established animator, with clients from all over the world. This workshop will take place on Saturday 27th April, and Theo will share his tips, tricks and techniques, to start you off on your animated journey. Visit out more and book your place here to find out more.
The Collectively Camberley Little Book of Offers 2019
Collectively Camberley have released their Little book of Offers, allowing you to have access to over 50 fantastic offers and promotions from Camberley's Businesses. The booklet is now available to download and offers run until 30th April*. Download your version here.
Ping Pong Parlour – The Square recently welcomed back their Ping Pong Parlour. Located near Costa, anyone can stop off and play a competitive game of ping-pong! Ping Pong Parlours have opened nationwide and form part of Table Tennis England's vision to inspire people to get active and lead healthier lifestyles by introducing the sport into places where they already spend time in their everyday lives.
All details for the above events can also be found on The Square's website.