Foneworld – Mobile Phone Repair Technician
Job Description
Do you want the chance to build a career in retail? FoneWorld specialises in repairs of smartphones, tablets and computers. We are looking for talented and ambitious professionals to join our team at Camberley store.
What will you be doing?
(These are the specific things you will be doing on a day to day basis)
You must be brilliant at technical repairs and have outstanding people skills. Without our customers, we don't exist so when those customers need greeting or serving and no one else can help, we don't wait around, we get on and help them to reduce their tech stress.
As a FoneWorld Technician you work alongside our amazing teams, serving customers, taking technical steer from the store's Head Technician or Store Manager. Relationships and communication between everyone in your team and the Support Centre are essential to you being successful in the role.
Specifically, this will mean you will be doing the following:
First and foremost you will be conducting Level 1 repairs on our customer's devices. This will include things like replacing batteries, screens, internal flex replacements, replacing cameras
You will not only fix their device to the incredibly high standards, you will also deliver the best service in the world to them when they need it most.
Welcome and help customers that enter our stores whether they need tech support, advice or to purchase an accessory from us.
Organise and communicate with the front of house team on orders to ensure that customers are kept updated on their order to ensure that they receive excellent customer service.
Ensure that the repairs work space remains in excellent working order, neat, clean and with all the right tools you need to conduct Level 1 repairs.
Ensure that all procedures and repairs comply with Health & Safety at all times through all procedures and ensure that the store is a safe working environment at all times.
Follow directions from the Store Head Technician as they lead the technical team throughout trading.
What type of experience might you have?
(These are things we'll look for in the recruitment process)
A minimum of 1 years' experience repairing smartphones and tablets either through work directly or for friends and family, specifically it would helpful to have experience already in repairing iPhones, Samsung phones, iPads, and MacBooks).
A passion and curiosity about technology and problem solving
An engaging communication style, energetic and proactive with an excellent customer focus
Positive, can-do attitude and friendly persona
Experience of working in a fast-paced environment and working under your own initiative
How to be a success?
At FoneWorld we allow talent to flourish, be brilliant from day one and the founder will know who you are. Deliver against our strategic pillars of Trust, Reach, Choice, Excellence, Quality and People and you will be a trailblazer.
Gaining our customers Trust which will be measured through NPS, Google review and customer complaints
Reach as many customers as possible, don't give away too many discounts to beat revenue targets.
We will see customers love the Choice you provide them through increased conversion rate and bigger basket sizes.
Excellence is seen when we don't lose or waste much.
Repairs are what we do and essentially, we see Quality in the repair as fundamental to that.
Our People need to be there for our customers and productive for the business.
What do we offer?
We offer the chance for you to connect with people, develop teams, solve technology stress for customers and stay technical throughout your career with us.
What we don't offer is lots of rules and processes, red tape or things that will hold you back, quite simply we're the place that allows you the freedom to help other people by doing the things you love.
In addition to your annual salary there are some great benefits too:
Monthly bonus
28 days annual holiday
40% Discounts on store purchases.
Online and on the job training available.
Company pension.
If you're excited by the opportunity to join a trailblazing technology business and you have the technical curiosity and great people skills we look for then apply now!
Job Types: Full-time, Permanent
Salary: £24,500.00-£28,500.00 per year
Schedule:
8 hour shift
Work remotely:
No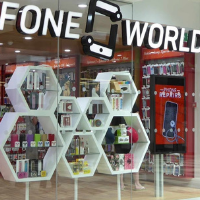 Salary
£24,500 - £28,500 a year
Hours
On Application
Location
FoneWorld Camberley
Reporting To
The Manager
Contact Name
The Manager