Dance and Performance School set up permanent stage at The Square Camberley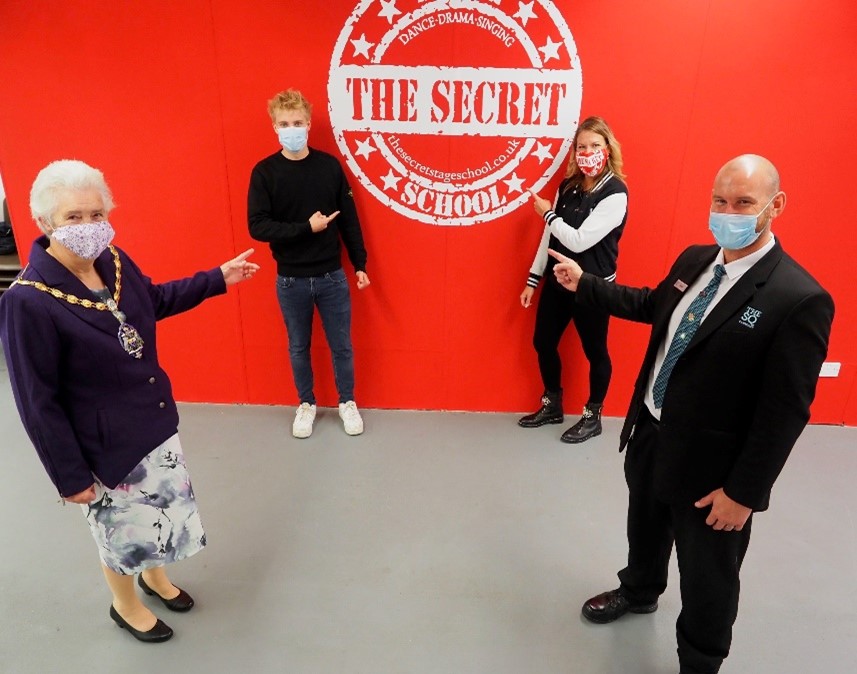 The Secret Stage School is now open at The Square Camberley, seeing the performance school teach shoppers how to dance and act.
The leading independent stage school was officially opened on Saturday 3rd October, seeing former pupil of Secret Stage School and now film and television star Tom Taylor join The Mayor of Surrey Heath cut the red ribbon. (See image right)
Located in Grace Reynolds Walk, the performance school is designed for children and adults who want to develop their performing skills, focussing on building confidence and encouraging enjoyment whilst producing entertainment.
The Secret Stage School teaches a range of classes, including musical theatre, commercial dance and street dance, and will be open to both new and existing students alongside centre visitors.
The Square already has a close working relationship with the popular performance school, seeing the centre host dance and theatre sessions alongside The Secret Stage School as part of their free Kids Camp events for a number of years.
The Square's Centre Manager, Rhoda Joseph commented: "We're thrilled to be welcoming The Secret Stage School to The Square. We've worked closely with the school for many years with holiday workshops and interactive sessions always a hugely popular part of our free kids club events. It's important to be able to offer unique experiences and being able to have our very own performance school here at The Square certainly offers shoppers and visitors the chance to experience something new! With after school and early evening classes there is something for all ages including musical theatre, commercial dance and street dance. It is a bonus that the studio has available space in the day which could appeal to other creative and performing arts as a hub. This feels like the beginning of something wonderful."
Secret Stager School founder, Rachel Bell also added: "We are so thrilled to have our own base for the school and the location in The Square, is perfect. Camberley has welcomed us since we first started eight years ago, inviting us to take part in The Christmas Lights Switch On, Kids Camp and Poppy Appeal launches and to now have a home right in the town centre is ideal. As a local independent business, we are so grateful to The Square and Surrey Heath Borough Council for all their help in securing this new studio. With a team of over 40 volunteers, the space was transformed in just 7 days into a wonderful dance studio, with 2 further studios upstairs and large roof area. The support has been overwhelming and this truly is a real "feel good story" coming out of Lockdown.
"We all want our children to thrive and this is at the centre of The Secret Stage School's ethos. The school was set up not just to develop the talents of the children, but also to help them discover their strengths and learn invaluable skills. I am so looking forward to seeing them all flourish in their new home. The studios will not only become a Hub for the students in the evening, but we would like to encourage other creatives and independent businesses to make use of our studios during the day. We have a sense of community that we'd like to spread far and wide.'
As an independent school, The Secret Stage School is able to offer the pupils the classes they really want and to adapt the school to meet their needs. With the new studio, the school is introducing new classes in tap and Tik Tok as well as individual or duo singing lessons with Mike Auger, star of BGT Winners Collabro.