The Workshop
Opening 28th June (opposite TK Maxx in Main Square). The Workshop is a partnership between Surrey Heath Borough Council and DWP, specifically set up to guide young adults aged 18-24 through the confusion of available opportunities. We can help with apprenticeships, traineeships, work placements, work experience, education, vocational courses and volunteering opportunities. Treating each young person as an individual, we can share our local knowledge of opportunities on offer, as well as provide skills training such as CV writing and interview practice, and motivational and wellbeing seminars that will serve them well throughout their careers.
The Workshop will act as a point of contact over a period of time, helping young people to explore possibilities, regardless of their academic achievements, or other barriers that may be holding them back.
If you are aged 18-24 (or know someone that is) and would benefit from talking to us, please don't hesitate to contact us. If you're a local business and you'd like to help and/or have opportunities to share, we'd love to hear from you.
Email: theworkshop@surreyheath.gov.uk or visit www.surreyheath.gov.uk/workshop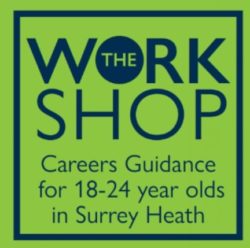 Contact Details
22 Grace Reynolds Walk, Camberley, GU15 3SW
Visit Website
Opening Times