Robert Goddard
Spanning back over twelve decades, five owners and three generations, Robert Goddard has always prided itself on its rich history. George Goddard II originally opened the doors to the eponymous store in 1895, following the three golden rules: quality, value and service.
Fulfilling his lifelong ambition to be his own boss, George even lived above his first store until 1919. The business flourished, not only because of these rules and local trade, but also because George would frequently travel by horse and cart to neighbouring towns and villages to promote his brand further. This innovative mindset also included catering to younger men's and boys' clothing, a demand that until that time hadn't been executed with such ease.
By 1936, George's son George Goddard III became an avid apprentice within the business but was enlisted into the army during World War II. After being captured by the Japanese at the fall of Singapore, George III was taken as a prisoner of war and was held in Thailand for over two years.
In 1948, three years after his return at the end of the war, George III took over the company. His father had retired and passed the family business over to him. By the 1950's his Father's horse and cart had given way to a motor van which still allowed the company to offer a free delivery service to outlying areas.
George II died in 1950, but it wasn't until the early sixties when George III decided to modernise the company by refitting the store and extending the building to give more depth. In 1981, 'Elizabeth Goddard' opened in New Conduit Street. This store specialised in ladies' clothing and was then moved to become part of George Goddard in 1983. In just under a century, this small retailer had gone from solely selling menswear to stocking a full range of products in multiple locations.
George Goddard III died in 1984 and his sons inherited one store each. Robert Goddard took over at the Wisbech store and swapped out the generational name to his own, creating Robert Goddard.
In March 2008, Oliver Tookman took over the Wisbech store which began the expansion of the Robert Goddard brand. Similarly, to the days George spent running his business from his flat above the first store, Oliver spent a year living out of a hotel to complete the takeover of the company.
Robert Goddard may not still be in the hands of the Goddard family but the true determination and passion for customer service and quality products live on. Delivery provided on horse and cart, has now developed into a worldwide ecommerce platform that offers the same services. One store in King's Lynn has now become now seven other stores and the original innovation that began the business is still as rife.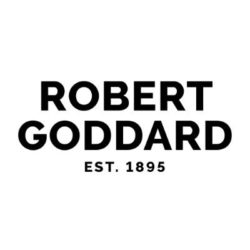 Contact Details
74 Park Street, Camberley, GU15 3PT
Visit Website
Opening Times