No Ordinary Salon
No Ordinary Salon is one of Surrey's unique premier hair salons, its flagship salon within The Atrium on Park Street, Camberley offers a service second to none and rivals all the top London salons and now boasting a huge 2500sq ft first floor level (Afterglo*) with new champagne & cocktail bar along with an industrial look which is bang on trend.
Its clean design and chic mirrors reflect style and grace whilst remaining friendly and approachable, the highly knowledgeable team are all level 3 trained and fluent in L'Oréal colour so any help and advice is only a phone call or visit to the salon away.
No Ordinary Salon are also true masters of colour correction, they venture into places most salons won't when it comes to sorting out home or salon colour disasters and if you want something a little different you can always choose from the colour menu which is always on hand and displayed within the salon.
No Ordinary Salon ensures you receive their specialist knowledge of colour every time you visit and nothing is too much trouble for their clients, they relish in providing 'above and beyond' levels of hairdressing and their World Class customer service is just a part of the amazing experience you will receive at No Ordinary Salon.
No Ordinary Salon remains uncluttered with its service tables allows use of laptops etc making it easier to 'work while in salon' along with high speed internet.
Its elegant semi-industrial style oozes the very best in salon design and it boasts a Café bar where you can choose from a complimentary tea, coffee, wine or beer with every service along with a 'cocktail specials' menu on certain days of the week all whilst surfing the net via their free Wi-fi service.
The Rituals Room is a beautiful glass room featuring a large fish-tank within its walls. It's soothing music, intoxicating smells offer a sensory experience climaxing with a relaxing Shiatsu head massage, which is performed every time you visit. A bespoke treatment menu allows you to choose exactly what elements you would like to combine when receiving your amazing hair cleansing experience from Moisture, Strength or Colour protection to hair repair and heat protection, You choose!.
No Ordinary Salon provides hairdressing for both Ladies and Gents and as part of the service you will be given a thorough consultation in order to establish exactly what you require with your hair, both for your style and hair maintenance. We all live busy lives and as part of our service we offer to email your hair product requirements and advice on how to use the products, which have been recommended to you on the day.
No Ordinary Salon also stock Kerastase, L'Oréal Professional & Paul Mitchell hair products within its dedicated retail area at the front of the salon, so its easy to pop in and pick up your favourite shampoo or styling product or click and collect via Facebook.
A drop off point right outside the salon provides convenience for people short on time and also helps if it's raining! Open 6 days a week and late into the night No Ordinary Salon provides the perfect opportunity for you to have gorgeous hair everyday.
Call 01276 23000 for an appointment!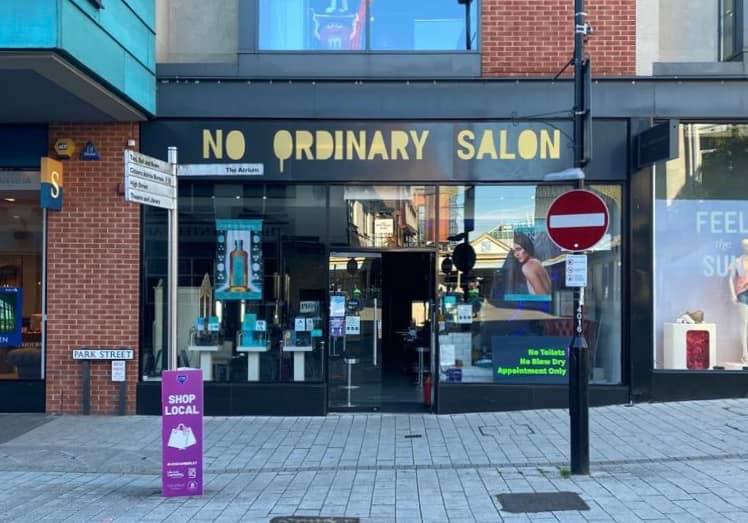 Contact Details
The Atrium, 64 Park Street, Camberley, Surrey, GU15 3PT
Visit Website
Opening Times
Monday 10am-7pm Tuesday 10am-6pm Wednes 10am-8pm Thursday 10am-6pm Friday 10am-6pm